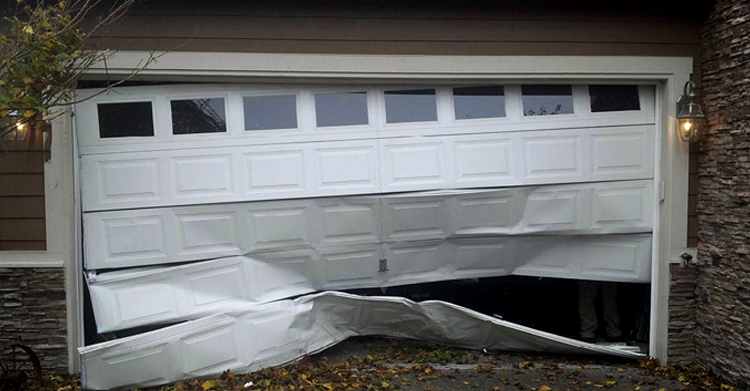 As a homeowner, you must make many decisions about home maintenance and upkeep. One such choice is whether to repair or replace your broken garage door. After all, this door is an integral part of your day-to-day routine.
Regular maintenance can prolong the life of your garage doors system, but what happens if your door becomes inoperable? How can you tell when to give up on repairs and replace the entire system? An easy solution is to call a trustworthy and credible garage door technician to inspect the door and its system and offer their professional opinion.
Here are several situations in which it is best to simply replace rather than repair your home's garage door.
Your door is severely scratched, dented, or rusted.
It's natural for a home's garage door to sustain some damage over the years, like scratches, dents, or chipping paint. These can be easily repaired, especially when caught early. However, if the door gets dented or damaged repeatedly, it can become unsafe and insecure. This is time to get a quote for a new door, especially if the panels are severely damaged.
Damaged panels could increase your risk of a break in and put extra stress on the rest of the garage door system, which can result in the need to replace even more parts. The panels of your garage door are made separately, then put together. When one or two become bent, it is possible to replace just the damaged panels. However, if severely damaged, the panels could come away from each other, which can cause serious injury if they fall. If the panels are too broken or damaged, you need to replace the entire door to ensure everything works properly and is as safe and secure as possible.
You've been operating the door with broken springs.
The garage door's springs are incredibly important to its system. The springs allow your garage door to smoothly move up and down, so they are responsible for offsetting hundreds of pounds. Unfortunately, when these are broken or damaged, they can rarely be repaired. And, if broken springs go unnoticed for too long and you continue to use your door as usual, it could cause even more damage to other parts of the operating system. You'd then need to replace not just the springs, but the door and system.
You can know if the springs of your garage door are broken by paying attention to how the door opens and closes. If it isn't gliding smoothly on the tracks, or you notice the top of the door is bent, it's a likely indicator that the springs are at their last. And please, never attempt to replace broken springs on your own! Always contact a professional.
The door is old or an eyesore.
Homeowners can replace their door for purely cosmetic reasons, especially if it detracts from the rest of the property. A brand new garage door can instantly increase the curb appeal of your home. If the door looks worn down, consider replacing it with a modern garage door and opener with the latest MyQ technology.
MyQ tech allows you to operate your garage door system at any time from anywhere, as long as you have access to the internet. This is a huge benefit when you get to work and remember you forgot to close the garage door, or your kids find themselves locked out of the house after school. You can also equip your new garage door system with motion sensor lighting and keyless entry systems.
The door shakes when it moves or breaks down often.
Your garage door should always glide smoothly up and down its tracks. If it doesn't, and you notice the door shaking or stopping and starting a lot while it operates, that's a sign that something is wrong. Part of the system could be broken, so be sure to inspect it and ask a garage door technician to come advise you on your next steps. If the door is constantly breaking down, it's a bad sign. Repairs can become costly at this point, and it may be a wiser financial move to simply install a new door.
Your old garage door lacks modern safety and security features.
Garage doors can last for a long time, and you can absolutely extend the life of the door by keeping up with regular maintenance and small repairs. While your old door may still operate properly, is it secure? Is it equipped with a safety reverse mechanism, an emergency release handle, and photo eye sensors? Is it still strong enough to withstand a Midwest summer thunderstorm or winter blizzard? New garage doors are often stronger, safer, and much more difficult to break into.
The tracks are broken or bent.
If you notice your garage door isn't moving smoothly up and down its tracks, check to see if they garage door tracks are bent or broken. Bent garage door tracks are often irreparable. Since the garage door's longevity relies on the system working at full capacity, it's best to replace severely rusted, bent, or broken tracks rather than repair them. A faulty track can inflict stress on the rest of your garage door system and could even lead to bigger repairs or replacements down the road.
If your garage door system is struggling to operate, not functioning at all, or if you just need something new for your home, consult with WD Door, your local garage door experts. They can inspect and repair or replace your garage door system.
Garage Door Repair in Des Moines
If you live around Des Moines or Ankeny and you need your garage door system inspected, repaired, or replaced, give us a holler! We provide commercial and residential garage door service to Central Iowa. Contact us today with any questions to request a quote!
For more helpful tips on garage door maintenance and repairs, subscribe to our blog!