Is My Garage Door Broken Beyond Repair?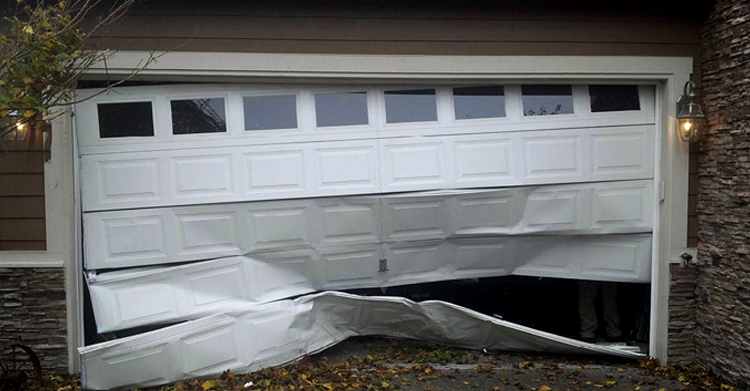 Many homeowners must face the decision to either repair or replace their garage door. How can you tell if your whole system is on its last leg and needs to be replaced or if it simply needs to be repaired? If you're struggling with this, and you really have no idea what the better option is, call a trustworthy garage door repairman (or woman) to inspect your door and offer a professional opinion. Often, the best answer will become clear. Here are several instances where it would be wiser to replace rather than repair your garage door.
6 Reasons to REPLACE Your Garage Door
Your door is scratched, dented, or rusting.
Over the years, every garage door succumbs to regular wear and tear, often including scratches, dents, and paint chips. Maybe you have kids who play basketball, baseball, or tennis in the driveway regularly. As the door gets hit repeatedly, dents will become more prominent. Depending on the state of your door, you may be able to get away with covering up the damage with a fresh coat of paint or having individual panels replaced (depending on the type of door you have). In some cases, however, it may be better to replace the entire door.
Your garage door is an eyesore.
The primary reason homeowners end up replacing the garage door is for cosmetic reasons. A flawless new door can do wonders for your home's curb appeal. If your door looks worn down from years of use, consider updating. Not only will it give your home a facelift; it can also modernize it with the latest garage door technology, making your home more appealing to future homebuyers and safer and more convenient for you now.
Your door has been damaged.
If you or someone else has hit your garage door with a vehicle or it has succumb to other serious damage, it likely needs to be replaced. Serious problems include missing or loose panels, holes and cracks, bad dents, and warping. Take a look at your door when it's shut. Does it sit flush with the ground? If not, this is a problem. It could be due to warping, but it's more likely a mechanical problem causing your door to operate and close unevenly. Other signs of damage include broken or splintered edges and bottoms of doors. The longer you leave your door in any of these precarious states, the more damage will accrue and the worse off your entire garage door system will become. These problems not only make it easier for burglars, animals, and insects to break in, but it can also lower the energy efficiency of your entire home.
Your door shakes when it moves.
Your door should move up and down smoothly. If it doesn't, something is wrong, and part of the system could be broken. Ask a garage door technician you trust to inspect the system. One part may need to be replaced, or you may need to replace the entire thing.
Your door is old.
Your garage door may still operate smoothly after many years of use, but is it up to date? Is it secure? New garage doors are often stronger, safer, and more difficult to break into. You can equip new garage doors with advanced motion sensors, automatic lighting, and keyless entry systems. They're also more efficient: you can choose to install an insulated garage door to keep the cold and elements out of your garage. Depending on the age of your garage door, it may or may not be equipped with a safety reverse mechanism, photo eyes, or an emergency release handle. These are all vitally important safety features.
Your garage door breaks down often.
If you've had to call your garage door repair company a lot lately, this is a bad sign. Repairs can be costly, so it may be a wiser financial move to install a new door instead of pouring money into fixing an old one that could break down again any day.
Garage Door Repair in Des Moines
If you live around Des Moines or Ankeny and you need your garage door system inspected, repaired, or replaced, give us a holler! We provide commercial and residential garage door service to Central Iowa. Contact us today with any questions, or request a quote by clicking below!