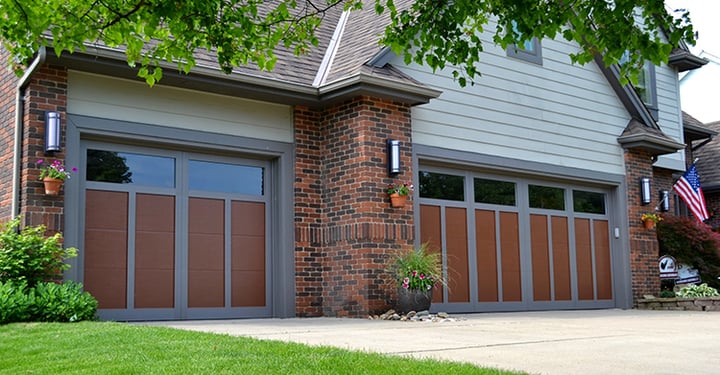 Spring is right around the corner! It's an exciting time. The weather is getting nicer, the birds are returning north, and everyone is starting to spend more time outdoors. As you head outside to breathe in the fresh spring air, make sure you take care of some business around the house, including performing a few preventive maintenance tasks on your garage door system.
Clean it!
Regular spring garage door maintenance should always include cleaning the surface of your garage door. This should be done once a year at the very least to keep your door in good shape longer. It's a quick, easy process, so no excuses! Grab a soft cloth or sponge, and wipe down your door with a mild detergent solution. Mix one cup of mild household detergent that contains less than 0.5% phosphate in five gallons of warm water. Wipe off any dirt, grime, or anything else that shouldn't be on the door's surface. Also wipe down the weather stripping. For steel garage doors, wipe off the moisture with a slightly damp chamois. If you have a wood door, rinse off the solution with clean water and let it air dry. Never use a power washer, window cleaner, or bleach solution to clean your door.
Inspect it!
There are a few tests you should perform to make sure your garage door is working properly.
Check the photo eyes. Place a hand over one of the two photo eyes and push the button on your remote to close the door. The door should remain where it is, and a light should start flashing on the motor. If the door moves, your garage door opener might be broken, so you should have it professionally inspected.
Check the safety reverse mechanism. Grab a 2x4, and place it flat on the ground underneath and parallel to the door while it's open. Push the button to close the garage door, and watch what happens. The door should start to close but reverse as it gently touches the board in its path. If it closes all the way, something needs to be adjusted. Call a technician to inspect the system and figure out what's wrong.
Check spring tension. Make sure your garage door is in the closed position, and pull the opener's emergency release handle. Then, lift up the door about halfway and release it. The door should stay in place. If it falls, it needs more tension; if it opens the rest of the way on its own, it has too much tension. If the balance is off, call a professional to fix the problem for you.
Check all moving parts. As you're performing tests and lubricating (see below), inspect all parts to see if anything is worn down and needs to be replaced, including all rollers, cables, tracks, brackets, and hinges. Also check screws and bolts to make sure they are still tight.
Lube it!
Spring is the perfect time to re-lube the moving parts on your garage door. Lube the spring by running a bead of oil across the top, along the area where the coils touch. Also lubricate the rollers, roller shaves, and hinges. This will keep your garage door running smoothly and decrease the risk of rollers running off their tracks.
Des Moines Garage Doors
If you want us to perform a garage door inspection for you this spring and you live in the Des Moines area, give us a call! We'd love to help you out. We also replace and repair commercial and residential garage doors for customers in and around Central Iowa. Ask us for a quote today!