We receive all sorts of calls about garage doors in Des Moines and surrounding areas where people are running their door with a broken spring. People don't know where the spring is located, let alone know how to check if it's intact or not. Most of us don't give our garage doors a second thought these days with how busy our lives are...until it stops working. Then it sends us into a panic! Here are a five tips to help you prevent getting your car trapped inside your garage due to a broken garage door spring.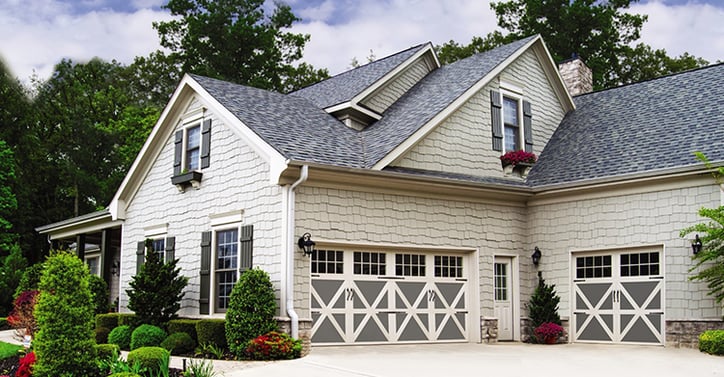 Your operator needs the motor and the spring system.
All overhead doors have a spring system to counteract the weight of the door, and the motor that hangs from the ceiling can only lift so much weight. The spring has tension in it and helps to raise the door with the electric motor attached to it. To learn about the different types of springs, click here.
Inspect your system twice a year.
Twice every year, do an overall inspection of your garage door. Check to make sure your springs are intact and that there's no gap between them. Look over the rollers, hinges, and brackets to make sure nothing is bent or looks strained. Get some non-silicone spray lubrication (we sell it at our office!) that is made specifically for garage doors; use it to oil all moving parts including the spring. This will increase the life of your door and motor.
The life of your spring ranges from 5-10 years.
Since springs wear down the more you use them, there is no predicting when they will break. It's similar to how there's no telling when the battery in your car will die. The average spring lasts an average of 5-10 years depending on how often you use your door. Most are rated for 10,000 cycles.
Use your operator's emergency release cord to test.
If you think you may have a broken spring, (especially if you have a Wayne Dalton Torquemaster brand that is inside a metal shaft for safety purposes) pull the emergency release cord and detach the motor from the door. If the door seems extremely heavy to lift, this is a tell-tale sign that the spring is broken. If you know your door is working properly, just test the door and see what it feels like to open it on manual.
Running your garage door operator with a broken spring can cause major damage.
Last but not least, you can do MAJOR damage to your door by continually operating it on a broken spring. Since the spring support is compromised by one or both springs not pulling its weight, the motor has to work even harder to pull the door open. Permanent damage to the motor ensues, panels can be ripped apart at the hinges, and the operator arm can pull away from the door.
One of our customers, Beth VanRyswyk, offers a textbook example where we had to replace the entire door because the damage was too extensive to repair: "Honestly, we just thought our garage door was "supposed" to be that loud. We bought a house that had a loud and jerky garage door to begin with. The sound may have gotten worse over time but we didn't notice it since it was gradual with every use. When we called Steve, he was super helpful and even gave us a solution to ensure we could use our door until we were able to get a new one! The whole process from explanation of what went wrong with our old one, why we needed a new one, what our options were, how to choose a new one…to the very important part of having a tech come out to install the new door were all PHENOMENAL!!! We would recommend WD Door to anyone and everyone. The service was incredible and now we have a much nicer looking (and sounding) garage door!"
- Beth VanRysWyk, Marketing and Membership Director at the Altoona Campus

Allison Peet is the Marketing Director at WD Door. Located in Ankeny, WD Door has 25+ years of combined experience providing commercial garage doors, residential garage doors and garage door operators. WD Door also stands behind their work with garage door repair throughout the Greater Des Moines area.