Do you have a modern or contemporary home, or would you like to give your home a modern twist? If so, consider installing an aluminum garage door to complement your home and "wow" your neighbors!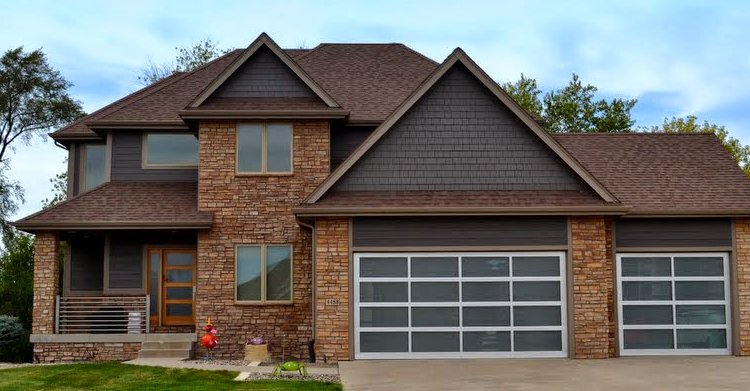 Advantages of Contemporary Aluminum Garage Doors
Distinctive Appearance: Every contemporary aluminum garage door from Haas Door and Wayne Dalton, WD Door's manufacturers, is hand crafted and built with quality. The contemporary straight-line designs look clean, elegant, and sophisticated.
Longevity: These doors are manufactured using rust- and corrosion-free commercial grade aluminum, which can enhance their life span.
Lightweight Material: Aluminum is very lightweight, so it poses less of a safety threat than heavier doors, such as steel or wood, and if a spring or door opener breaks, they are easy to manually lift. Also, because aluminum is a lighter material, it places less strain on the torsion springs and other parts of your garage door system when it operates.
Low Maintenance: It's very easy to maintain contemporary aluminum doors. Simply wash with soap and water as needed. Aluminum doors don't need to be sealed or painted regularly.
Low Cost: Aluminum costs less than some other garage door materials, and, due to its light weight, it may be easier (and thus less expensive) to install.
Disadvantages of Contemporary Aluminum
Durability: Because aluminum is a soft metal, it can scratch and dent fairly easily. For this reason, aluminum may not be the best choice for homeowners with children who like to play near the garage area. Also consider a different type of door if you live in an area with frequent hail storms or high winds that could dash debris against your door and cause damage.
Energy Efficiency: Compared with insulated fiberglass, steel, and wood, aluminum is not particularly energy efficient. To enhance the energy efficiency of an aluminum garage door, insulation can be added.
Replacement: Once your aluminum garage door is installed, it cannot be altered. If it's damaged, you may have to replace the entire door.
Designing Your Very Own Aluminum Garage Door
When it comes to choosing an aluminum door to complement your home's exterior, color is very important. That's why several different color options are available.
Clear
White
Dark Bronze
Black
Almond
Polar White
Sahara Tan
Sandstone
Brown
Hunter Green
Painted Bronze
Gray
In addition to these 10 colors, custom-matched color and powder coating are also available.
Several glass options are available, depending on the garage door model you choose.
Tempered
Insulated Tempered
Laminate
Tinted
Etched
Panel options range from 2–5 panels wide, depending on the width of your garage door space.
Contemporary Aluminum Garage Doors in Iowa
If you think an aluminum garage door may be the answer you've been looking for to complete the look of your home, WD Door offers three different models for you to check out:
Contemporary aluminum garage doors are beautiful and distinct, but they aren't for everyone. If you need to replace your garage door, but aluminum is not what you're looking for, we have several other great residential garage door types and styles for you to check into, including wood, steel, and fiberglass. If you have any questions about garage door replacement or installation in or around Des Moines, Iowa, or you would like to request a free quote, contact us!