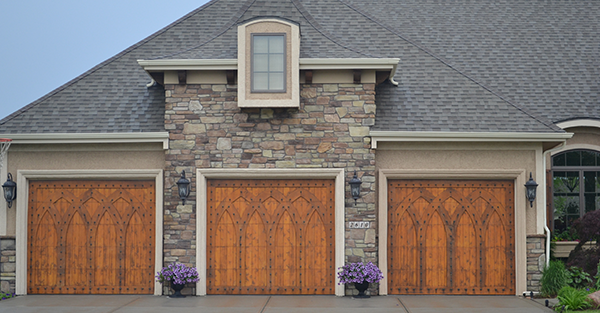 With the warmer weather sweeping into Iowa, everyone is itching to get outside. Many of us are also ready to begin working on home improvement projects we've been eager to get to all winter. Now that the beautiful weather is finally settling in, it's the perfect time to get started.
A great way to freshen up your home this spring is to install a new garage door. According to Remodeling Magazine, replacing a garage door returns an average of 72% on investment in Iowa! That's only one of the many reasons installing a new garage door may be a great home impovement project for you to consider this spring. Keep reading to learn about additional benefits.
#1) Increase Your Home's Value
A new garage door will add resale value to your home. If you're expecting to sell your home in the near future, you should consider replacing your old door with a new one. First impressions are very important when trying to sell your house. If a potential homebuyer sees an old garage door, they will assume it will need to be replaced in a short time or require maintenance and upkeep. On the other hand, if you have recently replaced your garage door, the homebuyer will be more at ease, knowing they won't need to lay out that extra expense.
#2) Enhance the Curb Appeal of Your Home
Many people don't think about this, but a new garage door can have a huge impact on your home's appearance. If you currently have a garage door that you would rather have blend in so as few people notice it as possible, it may be time to upgrade. Old garage doors can make your entire home feel out of date and unkept when you may actually have a very nice home. New doors can add personality and character to your home, giving you something you want to show off rather than hide.
#3) Keep Your Home Safe and Secure
It's very important that your garage is secure, especially if it's connected to your home. If not, it could be a very easy access point for intruders. A new garage door system will offer you more security. Today, doors are stronger, more durable, and come with technology to ensure better security. New doors also help minimize the risk for personal injury with advanced motion sensors, automatic lighting, etc.
#4) Save Money on Energy Bills
Today, homeowners have the option of purchasing insulated garage doors, which help keep cool air inside in the summer and the heat inside during the winter. These types of doors are especially useful if you use your garage as a workplace or have a living space above it. It also helps keep your home more comfortable by preventing drafts.
#5) Reduce Required Maintenance
Old garage doors can be a pain to maintain. They often use outdated technology, are inefficient, and require frequent repairs. Instead of spending a significant amount of money on the upkeep of your old garage door, you could be putting that money toward a brand new door. Check out our recent blog post, 8 Signs Your Broken Garage Door Needs to Be Replaced, to find several scenarios in which it would be wiser to replace rather than repair your door.
If you're interested in replacing your garage door, we have several great resources to help you get started. Our design centers allow you to upload a photo of your home and design a garage door over your current door. You can customize your new door so it's exactly the way you want it, and you'll have a great idea of what it will actually look like with your home! If you would like some ideas for designing your new garage door, we have a large photo gallery full of all the different types of doors we offer. Follow the links below!
Contact WD Door for any of your residential or commercial door service, repair, or installation needs. We are located in Ankeny, IA, and serve Des Moines, Ames, and many other areas around Central Iowa.