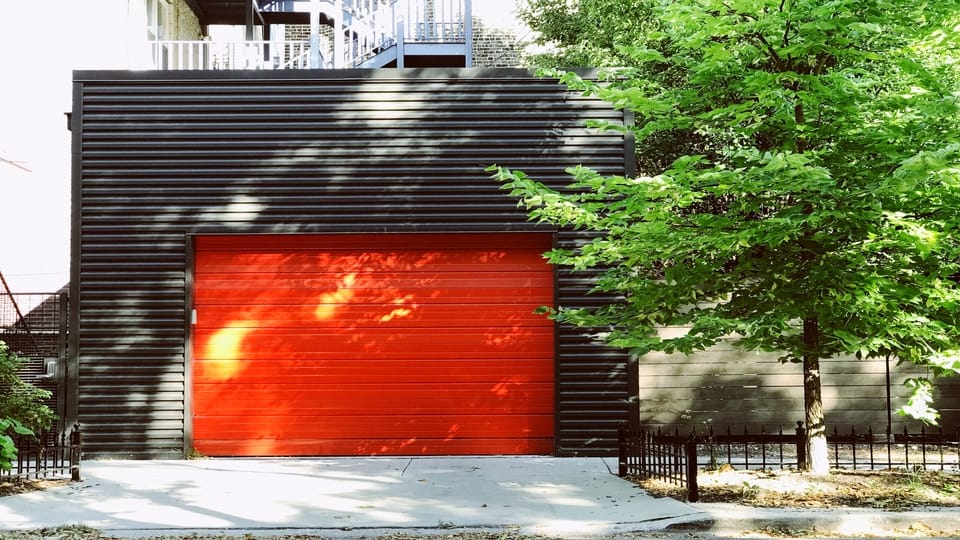 Updating your old garage door is an easy way to instantly up your home's curb appeal. But choosing a new garage door isn't as easy as it may seem. There are several things to consider, like the style of your home and your budget. One of the most important, though, is the material of which your new garage door is made.
Wood, steel, aluminum, and fiberglass are the most popular garage door materials. Each has its pros and cons, so how do you know which is best for your home?
Wood
Garage doors made of wood are undoubtedly beautiful and bring a classic, timeless look to your home. These doors are generally more expensive than other types, and some think they are harder to maintain. While wood doors can crack or warp in hotter climates, with the proper maintenance routine, homeowners in the Midwest can enjoy their wooden garage door for years!

Wooden garage doors have several custom options, like the type of wood, color of stain or paint, style of windows, and decorative hardware. This makes it incredibly easy to design the door that best fits your existing home. However, unlike its steel or fiberglass counterparts, a wooden door will need to be repainted or stained every few years.
Steel
When choosing a steel garage door, you can rest assured that it will last. Steel is a durable material that requires very little maintenance. While steel doesn't give you quite as many custom options as wood, steel doors are available in a wide variety of colors, finishes, and styles, so you can find the perfect one to complement your home.
Insulated steel garage doors help keep your garage and home cool in the summer and warm in the winter. They are very affordable, and their energy efficiency can help you save money on utilities.
Aluminum
Like steel, aluminum is a durable material. Aluminum doors require a small amount of maintenance to keep them in working order. They can stand up to corrosion, making them a great choice for humid Midwest summers. Since aluminum garage doors are lighter, they put less stress on their operating systems than wood or steel doors. On the other hand, aluminum doors can cost more than steel.
Aluminum garage doors are available in different styles and colors and can be a great choice for people who have a fun and modern style. Some aluminum doors include top-to-bottom windows that bring together indoor and outdoor living spaces.
Fiberglass
Fiberglass garage doors are a good choice for homeowners in areas with harsher climates. They are usually made with a steel core, which provides stability and durability, molded to a fiberglass surface. This helps the door last much longer than steel while maintaining a lighter weight. While fiberglass can be more cost effective than wood, it is a bit more expensive than steel.
Fiberglass doors don't dent as easily as other types of doors do, so your door can keep looking and working perfectly longer. Like steel, fiberglass doors can be customized to mimic other types of doors, such as wood, and fiberglass can present a more authentic look. If you're interested in a carriage-style garage door but don't want to use wood, for example, fiberglass is a great alternative.
With a variety of materials available, there are plenty of options to choose from when determining which may be best for your garage door. Interested in learning more? Contact WD Door today to learn which option is best for your garage.