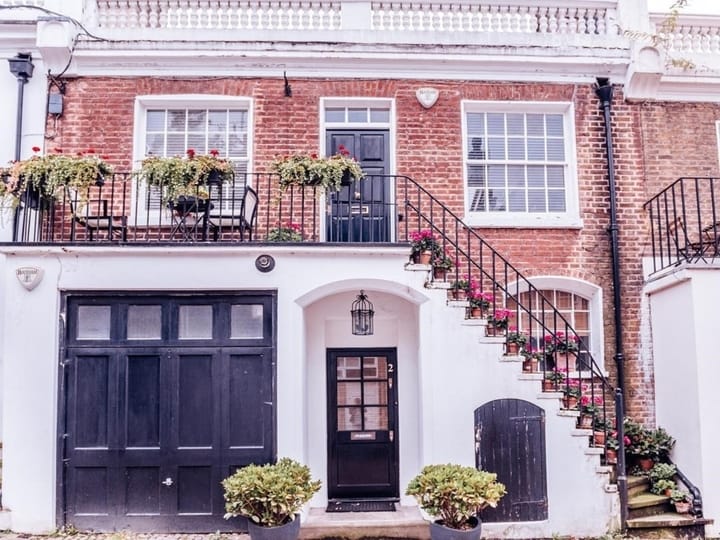 One of the easiest ways to upgrade the look of your home is by replacing your old garage door. Not only does updating this feature help keep your house and family safe and secure, but it can also increase the value of your home! Remodeling Magazine's 2019 Cost vs. Value Report shows that nationwide, an upscale garage door replacement results in an average of 97.5% return on investment in increased home value.
There are two main things to consider when selecting a garage door: the materials the door is made of and the existing style of your home.
Materials
When deciding what style of garage door to purchase, first consider what material will be best for where you live and what you need out of your garage door. There are four options from which to choose: wood, steel, aluminum, or fiberglass.
Wood
Wood is a popular material for garage doors, and there are many ways to customize it to perfectly complement your home. It resists dents and dings more effectively than metal and provides a timeless look. However, a wood garage door requires a higher level of maintenance than other garage door materials: regular staining and painting is required to ensure the door stays in top shape for as long as possible. Wood doors also tend to be less energy efficient than other options.
Steel
Steel is a durable and low-maintenance material for garage doors. Steel doors are available in various colors, finishes, and style options, making it easy to find one that complements your home. Steel doors are insulated to help protect your garage and its contents from the elements as well as contribute to the overall energy efficiency of your home.
Aluminum
While not quite as durable as steel, aluminum requires minimal maintenance and stands up to corrosion, making it the perfect choice for more humid environments. It's extremely lightweight, which makes it less taxing on the garage door's operating system, and aluminum garage doors are available in a wide variety of styles and colors to provide a modern, customized look to your home.
Fiberglass
In areas with harsh climates, fiberglass doors are a durable option. These are made with a steel core that is molded to a fiberglass surface, which helps the door last longer than steel while maintaining a lighter weight. However, while less expensive than wood, fiberglass doors tend to be more costly than metal.
Related Article: What Style of Garage Door Complements My House?
Style of Your Home
After selecting the type of material, consider the style of your home. While you can customize almost any garage door to suit your needs, some doors complement certain styles better than others.
For the homeowner who wants to give their traditional home a subtle upgrade, classic steel garage doors are an ideal choice. These doors offer a variety of styling options in order to perfectly complement your home while keeping a simple aesthetic. Choose from different panel styles like colonial or ranch as well as from several colors, window styles, and finishes.
Carriage style doors have been used for centuries, starting back when people traveled in a horse-drawn carriages (hence the name). These traditional doors add character to a home and are perfect for historic or classic-style houses. They can be custom painted and have different styles, windows, and finishes from which to choose.
The modern homeowner wants a garage door that enhances the home's sleek exterior. Contemporary aluminum garage doors offer full-view, etched, or obscured glass panels to fuse indoor and outdoor spaces while maintaining the privacy you desire. Match the style of your home by selecting from two panel styles and several different colors, insulation types, and finishes.
No matter the style, WD Door can help you select the best garage door for your home. Subscribe to our blog today to read more about choices in garage doors, operators, and tips for making your selections.