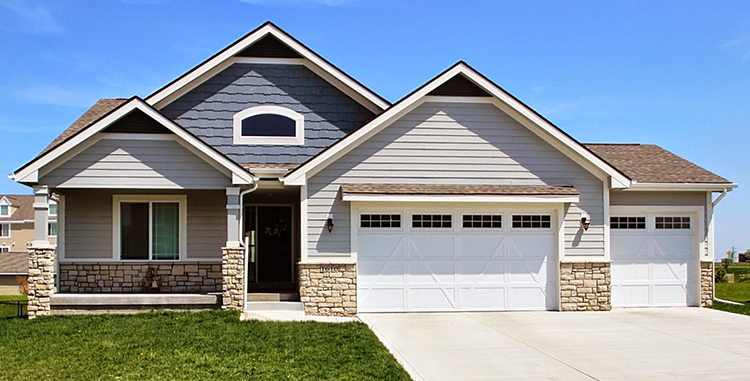 This is a great question! In Iowa, we often experience cold, snow, ice, and dry air in the winters and hot, humid weather and strong winds in the summers. Our climate can vary greatly, sometimes even from day to day. Taking several factors into consideration, here's our #1 suggestion for your Iowa garage door installation.
Insulated Garage Doors
As the largest opening in your home, your garage door can have a substantial impact on your energy bills and indoor comfort. Keeping your garage at a more moderate temperature throughout the year will help keep your home warmer in the winter and cooler in the summer. A great way to moderate your garage temperature, even during the most extreme times of the year, is to install an insulated garage door. Insulated garage doors also create a sound barrier to help block out street noise so your garage and home are quieter.
R-Value
When shopping for a garage door, consider its R-value. R-value is the measure of a material's ability to resist heat flow. The higher the insulation value in a garage door (or any object), the greater its insulating power.
What types of garage doors are insulated?
CLASSIC STEEL
Steel garage doors can be built with thick insulation/high R-value. Our classic steel garage door, Model 2000, for example, is one of the most energy efficient garage doors on the market with an R-value of 17.66. This two-inch thick door is constructed with heavy gauge galvanized steel and filled with dense CFC-free polyurethane foam insulation.
If you live in Iowa, we recommend you install a garage door with an R-value of 9 or higher.
Note: There are two main types of garage door insulation: polyurethane and polystyrene (commonly known as Styrofoam). Polyurethane is injected into the door in liquid form and flows into all cavities and spaces, where it then expands and adheres to the door panels. Typically, the thicker the insulation, the higher quality and more expensive a door is. Don't be fooled by the thickness of a door, however. Polystyrene doors are often thicker than doors with polyurethane insulation but have lower R-values. When a polystyrene door is constructed, a sheet of insulation is cut to size and inserted between the door's panels. It isn't as dense and doesn't fill every small space like polyurethane, however, so its thermal resistance is much lower.
CARRIAGE HOUSE STEEL
If you prefer the look of wood over steel, consider a carriage house steel garage door. These doors are also energy efficient. The R-values of our models range from 10 to 13.45! In addition to their beautiful appearance, these doors are also low maintenance and durable, while real wood doors are not.
If you have questions about insulated garage doors, are interested in installing a new garage door this year, or need your current door repaired, call WD Door! We proudly serve Des Moines and much of Central Iowa. Feel free to download our new eBook to see the stylish selections that HAAS Door, one of our trusted garage door manufacturers, has to offer!