Is it time to replace your old garage door? When it comes to upgrading, you have options. In fact, you have more design and customization options today than ever before due to new garage door technology, safety features, and styles. Here are several factors to think about when choosing or designing the perfect garage door for your home.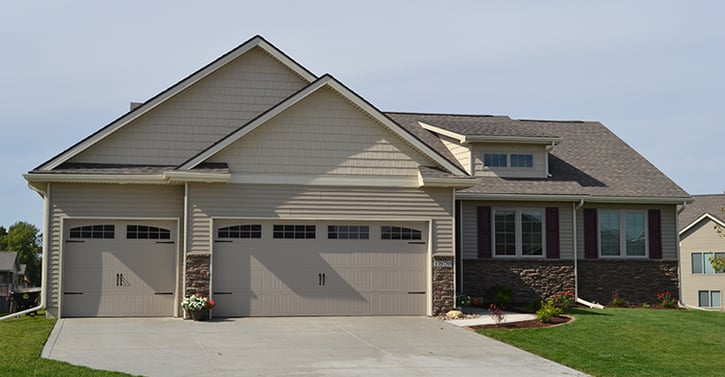 Choosing a Material
When it comes to picking a material for your garage door, you have several options. Choose from wood, fiberglass, aluminum, vinyl, or steel doors. Each type of material has its pros and cons. If you want to be able to customize your door, or if you like the traditional, distinct look, wood may be a great choice for you. If you're looking for a more modern look to match your home, go with aluminum. Fiberglass is durable and a great choice in areas with harsh weather conditions. Steel requires very little maintenance, is very energy efficient, and may be one of the most affordable options if you're looking to save money. Some materials require more maintenance than others. Wood, for example, may need to be stained or painted regularly, while vinyl requires very little maintenance. Do your research before deciding on a materia, so you are well aware of all your options and the advantages of each.
Choosing a Style and Color
Certain types of garage doors may not even fit on your garage. If the door you want doesn't fit right, your garage may need to be modified, which will significantly raise the total cost of your new garage door installation.
When choosing a style of door, consider the age of your home and the style and colors of its siding, windows, and doors. You probably don't want your brand new garage to blend into the background so it's barely noticeable. On the other hand, you don't want your door to stick out like a sore thumb, either, appearing like it was added 100 years after or before your house was built. You want your garage door to complement your home, and if you choose harmonious colors and a corresponding style, your garage door will add personality and beauty to your home. It also can give you a 72% return on investment in Iowa!
Insulation & Energy Efficiency Ratings
The garage can play a huge role in the energy efficiency of a home. Some doors can be insulated for maximum energy efficiency to keep your garage and home cooler in the summer and warmer in the winter. If that's important to you and you live in an area with extreme weather or temperatures, that's something to take into account when shopping for your new door.
Spice It Up with Decorative Hardware & Windows
Adding decorative hinges, handles, or other accessories can add a lot of personality to your door. Consider adding windows. Choose from different kinds of glass, and customize the trim around your windows to complement your door and home. In addition to enhancing curb appeal, windows will also brighten up your garage with natural light during the day.
Don't Forget to Ask About the Warranty
If you're investing money in a new garage door, make sure you have a good warranty in case of problems. Most reputable garage door brands come with warranties.
Garage Doors in Des Moines
If you're thinking about installing a new garage door in Des Moines, you've come to the right place! WD Door is a locally owned and operated garage door company located in Ankeny, IA. We install, service, and repair garage doors for residents in and around Des Moines and much of the state of Iowa. Contact us and we'll help you find a garage door that fits your needs and your budget!
Check out the Haas Design Center to start experimenting with different options and designing the perfect garage door for your home!