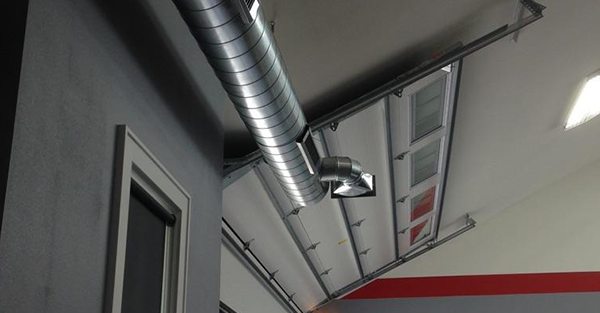 High lift garage doors offer benefits for both commercial and residential settings. These systems are useful in buildings with higher ceilings, as they keep the door closer to the ceiling than standard doors do, leaving more room below. Whatever you want to use your garage space for, a high lift door gives you more room to do it.
Residential High Lift Garage Doors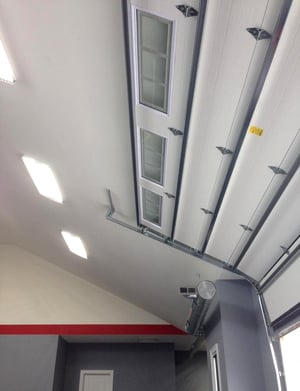 If your garage has a high ceiling, a high lift door can expand the flexibility of the space. For example, these photos show the interior of a garage that one of our clients uses as an indoor basketball court for his family when the weather is bad. While the traditional trolley style operating system hangs down and wastes a lot of space, the high lift helps you make the most of your garage. It also creates a cleaner and more open look and feel, which may be especially useful if your garage is heated or finished and you would like to use it for more than just storage and parking your car. Even if these are the only uses you want your garage to serve, the high lift door creates more storage space, or if you're a car enthusiast, it leaves extra room to work on the undercarriage of your vehicle with a lift.
Commercial High Lift Garage Doors
A high lift system maximizes commercial space, which optimizes productivity and efficiency to keep your business running smoothly. It creates more space for storage and product inventory, and it's ideal for buildings with higher ceilings and a lot of forklift and vehicle traffic. Large vehicles going into and out of the building can easily hit and damage a standard overhead door, resulting in repair and replacement costs and the potential for injury. A high lift door allows more space to safely move vehicles, products, and materials into and out of the space.
LiftMaster Elite Series Garage Door Openers
For residential homes and light duty commercial facilities, LiftMaster offers the perfect garage door opener to pair with a high lift system. The 8500 Elite Series door opener saves space by mounting directly onto the wall beside your door. This opener is equipped with Security+ 2.0, MyQ Technology, and a timer-to-close system. The system is very quiet and eliminates sound and vibration through the ceiling, so if your garage is connected to your home or you have a bedroom above your garage, it may be an ideal solution.

MyQ Technology allows you to monitor and control your opener and home lighting from any location via your mobile device. Simply download the free app, and you'll receive alerts to keep you up to date on the status of your door and home lighting system. Security+ 2.0 adds an additional layer of protection by allowing you to open your door only with your opener. The Elite Series 8500 also has advanced motion sensors, so lights automatically turn on as you enter the garage when it's dark. The power lock deadbolt feature prevents your door from being forced open, effectively keeping intruders out.
Note: Any garage door system should be installed only by certified and knowledgeable garage door technicians.
Learn more about this product and other LiftMaster systems by visiting the LiftMaster website, and subscribe to our blog for ongoing garage door updates!