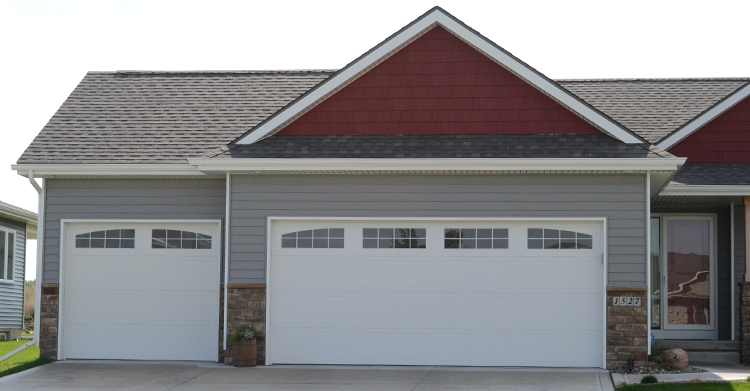 Do you need to program your LiftMaster Rolling Code remote control? Follow this guide that includes instructions for these single button control models:
Both are equipped with 315MHz Security+. The following instructions apply to only these two remotes, both of which have universal receivers that include a purple "learn" button.
Programming Your LiftMaster Remote
If you are able, use a ladder to safely climb up to where you can reach your garage door motor unit. Have someone hold the ladder steady if necessary. Press the "learn" button on the unit, then release. The light should glow for 30 seconds before it turns off.
Within these 30 seconds, press the button on your hand-held remote, and hold it down until the light on the motor unit blinks.
When the button on the motor unit blinks, release the button on the hand-held remote. This means it has learned the new code!
If light bulbs aren't yet installed, you should hear two clicks.
How to Erase All Codes from Your Motor Unit's Memory
If you need to deactivate an old remote that you won't use anymore, you should erase all codes from its memory.
Press the "learn" button on the motor unit, and hold it down until the indicator light turns off, which will only take about six seconds. It's as simple as that! All codes are now erased.
You can now reprogram any remotes you wish to use by following the first set of instructions above.
Remote Control Batteries
Lithium batteries should hold their charge for up to five years, which means they will wear out over time and eventually need to be replaced. To replace the batteries in your remote, pry open the case using either a screwdriver or a visor clip, and remove the old batteries. Replace them with new batteries, inserted positive side up. Dispose of your old batteries safely and properly.
* WARNINGS *
To prevent possible injury or death from a moving door or gate:
Keep remote controls out of reach of children at all times. Children should never operate or play with remote control transmitters.
Only activate your door or gate when you can see it clearly, when it's adjusted properly, and when there are no obstructions in its path.
When opening or closing your door or gate, watch until it is all the way open or closed. Don't click the remote and then drive away before the door is all the way down; someone or something could get caught in its path.
To prevent possible injury or death due to remote control batteries:
Never permit children to touch or play with batteries.
If an animal or child swallows a battery, notify a doctor immediately.
Source: https://www.wd-door.com/wp-content/uploads/2015/01/371LM-Remote.pdf
Commercial and Residential Garage Door Operators in Des Moines
If it's time to replace your old garage door operator or you would like to update your remote control, contact WD Door in Ankeny! We install top quality brands like LiftMaster and Genie for homes and businesses around Des Moines and Central Iowa. Let us know what questions you have about a new operator, either commerical or residential, or concerns you have about your old one! We look forward to hearing from you.