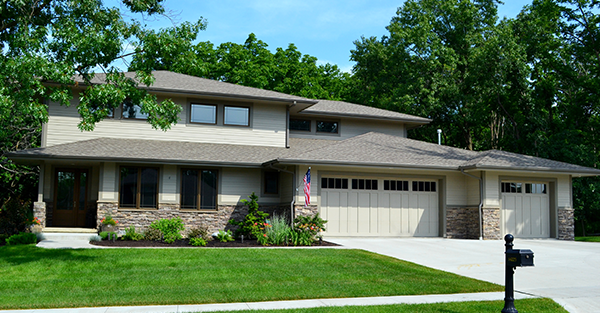 Your garage door may be the heaviest moving object around your home, so it's VERY important to make sure that everyone in your household knows how to operate it properly. Here are 10 great garage door safety tips all homeowners should know and abide by to prevent serious personal injury or property damage.
Garage Door Safety Tips
#1: Regular Maintenance
Perform regular maintenance on your garage door to ensure its safety. Every six months or so, lubricate the rollers and hinge points to reduce or prevent creakiness so the door runs smoothly on its tracks.
#2: Garage Door Safety Checks
Test your garage door and remote for safety. See our previous post, "June is Garage Door Safety Month!," to learn how to perform a simple 3-step safety check, or watch the video from LiftMaster for instructions on what to do.
#3: Red Emergency Handle
Never remove or modify the red handle on your garage door. This is an emergency release handle to be used in case of entrapment or another emergency.
#4: Garage Door Remote
If you leave your garage door remote inside your vehicle, make sure it's out of sight so thieves aren't tempted to steal it from you and break into your home.
#5: Keep Your Door Closed
Try to remember to keep your garage door closed, especially when you are away from the house. This will help prevent break-ins.
#6: Children and Garage Doors
Teach your children that garage doors and remotes are not toys and they should not be tampered or played with. Remind them to always keep far away from an open or moving door, and keep the remote control out of their reach. Make sure the opener installed inside your garage is at least five feet from the ground so small children can't reach it.
#7: Moving Doors
Don't run or walk underneath a moving garage door. Whether you're trying to quickly enter or exit, this can be dangerous, and if a child is present, you will be setting a bad example for him or her as well.
#8: Repairing Your Door
If your door needs to be repaired or serviced, don't attempt the job yourself. Garage doors are electric and extremely heavy with many dangerous parts. You could get shocked or severely injured by the high tension springs or cables. Call WD Door if your door needs to be repaired or any parts need to be replaced. Learn more about broken springs HERE.

#9: Security
Consider installing a security system or LiftMaster MyQ technology to alert you if your garage door is left open. Using this technology, you can monitor, open, and close your garage door remotely from wherever you are.
#10: Annual Preventive Maintenance
Call a local, trusted garage door technician to inspect your garage door system and perform preventive maintenance once every year. Save money by dealing with little problems along the way rather than having several small issues get out of hand and turn into a major problem that forces you to replace your door prematurely.
At WD Door, We Take Safety Seriously
At WD Door, safety is our number one priority. Our technicians are required to wear safety glasses, gloves, and follow the best practices for garage door repair and installation. All installers go through monthly safety training and follow OSHA guidelines for using forklifts, ladders, and scissor lifts. One of our technicians has even been certified as a lead-safe renovator by the Iowa Department of Public Health to work on special housing projects.
Wayne Dalton Garage Doors in Des Moines
Our garage doors are designed with extra safety features, including pinch-resistant panels and a Torquemaster spring system that contains the garage door spring inside a metal tube; if the spring were to break, it would be contained inside the tube instead of causing damage to vehicles or injuring someone in its path when it snaps. Our garage doors are also equipped with safety star screws that securely fasten bottom fixtures to doors and garage door panels are durable yet lightweight to prevent crushing injuries.
Contact us today for any of your garage door-related needs!