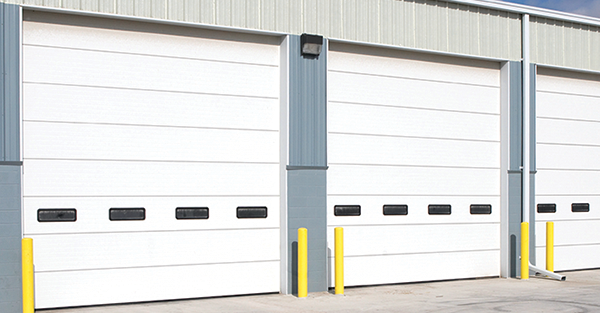 WD Door offers several types, styles, and models of garage doors for both residential and commercial properties. Today we'll be discussing four of our commercial door models. All of them are steel sectional garage door systems that offer several outstanding benefits. If you're looking to replace your commercial door, you've come to the right place.
This door, ThermoMark 530, is built to last. It's the strongest and most efficient of all our steel sectional doors. ThermoMark doors are insulated to keep energy costs as low as possible and to provide comfort and security. This door was designed with the ability to hold up under extreme weather conditions. It's the preferred choice for large openings in commercial facilities. Choose from a variety of color options with stucco finish to match the style of your building. Colors include white, almond, brown, and taupe. There are also a variety of additional options available to compliment this door, such as special track designs, advanced thermal performance clip-on jamb seals, and two separate door operation options.
The Haas Door 800 is a very popular choice for facilities that require maximum energy efficiency and strength. Each of these doors is insulated with high-density foam that is pressure-injected into every section of the door. The door is also reinforced with galvanized steel, making it incredibly strong. Its ten ball-bearing rollers are mounted to fit the track's slope, assuring smooth and reliable operation. There are eight different styles and eleven different colors to choose from. The windows contain double-glazed insulated glass with seal-tight framing and an anti-condensation system to prevent fogging. The windows are attached from the inside, making them easy to install and extra secure.
The Wayne-Dalton Thermospan 200 offers high thermal efficiency and low-cost maintainance. It is insulated with foamed-in-place polyurethane and has a non-conductive thermal break in between the inner and outer skins. This thermal break prevents the hot or cold air outside from seeping indoors, keeping the interior at a comfortable room temperature. It also prevents moisture problems like frost and condensation and, consequently, prevents corrosion as well. This door requires virtually no maintenance. Both the inner and outer surfaces are pre-painted with corrosion-resistant primer and a polyester finish coat on top. Choose from three different finish options: white, tan, or brown stucco.
The Haas 2000 Series doors are strong and well insulated, they effectively dampen noise, and they look great. A Hass 2000 is insulated with polyurethane-foam cores and reinforced with galvanized steel. The paint is a three-tier system, making it extremely corrosion-resistant and protecting it against harsh weather conditions. The door springs have a 10,000-cycle minimum lifespan. We can also install springs on this door that can last up to 100,000 cycles.
These are just a sampling of the many steel sectional garage doors we have to offer. Check out more styles and models on our website by clicking here.

Garage Doors for the Des Moines Area
Our garage doors are beautiful, durable, and thermally efficient. If you need to install a new garage door or have a door serviced or repaired in or around Ames, Ankeny, Urbandale, Des Moines, Altoona, or West Des Moines, give us a call at 515.963.0989, or fill out a simple form online telling us how we can help you.