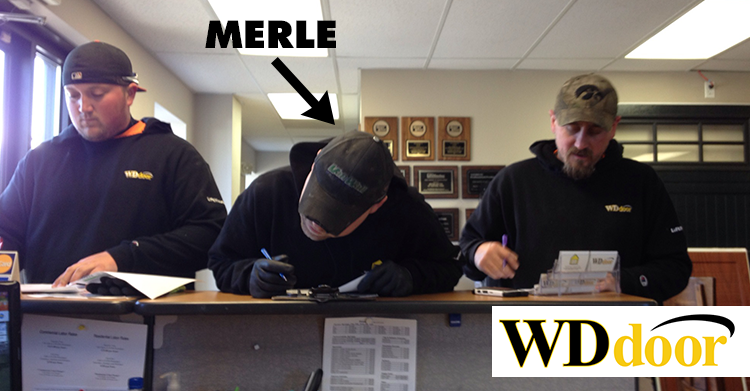 This month we are highlighting Merle Pottorff, one of WD Door's main residential garage door service technicians. He started working for WD Door in Des Moines back in December of 2005. His strong work ethic, attention to detail, and excellent customer service skills make him a perfect fit with our team.
Merle handles a good portion of our service calls in the area, and we couldn't keep running so smoothly without him! We count on his resourcefulness and expertise to get the job done efficiently and correctly the first trip out. He relies on his past experience and intuition to anticipate what parts to bring for each individual job, making the service schedule more streamlined.
Thank you, Merle, for all your hard work, longevity, and commitment to the WD Door team!
Here are some quotes about Merle from our staff:
"Merle is very thorough in his work and has very few call backs on the work he does. He is pleasant and polite to all customers." –Jeff
"He always thinks of the customer first and does the service work correctly. He cares about the company and is very loyal. Merle helps others with problem solving as well." –Steve
"Merle is a family man who loves his wife and children and always puts them first. Merle is a handy guy who is always willing to help a friend with a project. His hobbies include fishing, having a good time, and the Star Wars Force Collection app game." –Ryan
"Merle is so polite that he always says "Thank you" twice when he's in the office in the mornings, getting ready for his route. Almost as if it's one word: "Thankyouthankyou, Allison!" :) He has always been very pleasant to be around and asks about us and our families." –Allison
"Merle has great customer service and limited call backs. He takes pride in his work and has a great sense of humor. On the negative side of things, he roots for the Dallas Cowboys, which leaves him with a bitter taste on most Monday mornings!" –Brad
"Merle is a great fellow employee. He is extremely friendly with co-workers and customers. He's very knowledgeable with the ever-changing products. He goes above and beyond to make sure the customer is satisfied, takes great pride in his work, and is a great representative for WD Door." –Mike
WD Door is an overhead door and operator company in Ankeny, serving Des Moines, Altoona, Ames, and the surrounding communities. Let us know if we can help you in any way with your residential or commercial garage door system! Our garage door technicians are trustworthy, established, and professional.