How Does Our "Free Estimate" Process Work?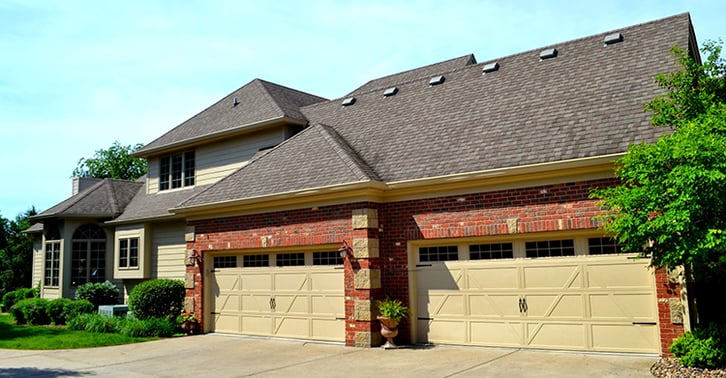 You probably hear the terms "free estimate" and "free quote" all the time, but have you ever wondered how they actually work? What goes into an estimate and how is a job quoted? Today, we're going to break down the process, so if you call us wondering what a repair or replacement will cost, you will understand the steps taken to determine an amount. We offer both residential and commercial estimates for our customers.
Garage Door Repairs
We get a lot of calls from people saying a vehicle hit their garage door, the track and panels are bent, and they need someone to come out to fix things as soon as possible. Our job is to determine what the customer truly needs.
If you call and tell us your door has been damaged, we'll do one of two things:
If the door is severely damaged, we'll send out a technician to make the necessary repairs to make it functional again or secure the door until we can replace it so it won't suffer further damage. This trip is chargeable; the customer will pay for the necessary labor and parts.
If the customer can afford to wait until one of our salespeople makes it out to assess the damage or measure for a new panel or door, we will put together a complementary quote.
Garage Door Replacement
When you call us wanting to receive a free estimate for a new garage door, have as much of the following information as possible on hand when you speak to one of our salespeople:
Dimensions: Measure your door so you can tell us the width first and then the height (in feet). Example: 16' x 8'
Budget: Have a budget in mind. Know before you call how much you'd be willing to spend on a new door. There is a wide price range with garage doors depending on the insulation rating and type of material.
Insulation: How insulated do you want your door to be? If your garage door is attached to your house, we recommend an R-value (insulation rating) of at least R-7. If you heat your garage during the winter for ice melt or you use your garage as a workshop, we recommend an R-value of at least R-12 to match your walls.
Style: Try to have a good idea of what design you like and what color you want your garage door to be. Do you want to add windows? Do you want it to be made of wood, aluminum, steel, or another material? Customers tend to do their research before calling us by looking around on our website—wddoor.com—and experimenting with the Wayne Dalton Garage Door Design Center. If you don't know exactly what you want when you call, that's fine too. Ask us for our recommendation! It's best, however, to have an idea of what you like and want before talking to a salesperson so we can install the best door for your home or business.
Operator: Do you want your current motor re-hooked (free of charge) or do you want to upgrade to a new operator? If your operator is old and needs to be replaced, consider a LiftMaster operator that incorporates MyQ technology. You can learn more about this and other quality operators on our website. If your garage door is attached to the house, we recommend a belt drive operator (a LiftMaster 8355 or later model). They operate much more quietly than traditional chain and screw drive operators.
Retrofitting: Do you want us to take down and haul away your existing door(s)?
Get a Garage Door Quote in Des Moines!
As you can see, a lot goes into devising an accurate, detailed quote. If you're ready to get an official quote of your own, let us know, and we can send one of our trusted salespeople out to measure the opening of your door(s). We'll also do an overall site check to make sure the area is clear of debris and that there's plenty of headroom to install the new door.
Our quoted price will include everything: tax, labor, and materials. We try to make the estimation process as easy and painless as possible. Our staff is trained to pick the best type of garage door for your needs, so if you have any questions at all, don't hesitate to ask! We proudly serve customers throughout the Greater Des Moines area.