In recent months, Door & Access Systems News Magazine posted this article featuring television stations across the country using hidden cameras to catch unethical garage door repair technicians doing shoddy work, performing unnecessary repairs, and overcharging unsuspecting customers. In response to this, we created the following list of tips to help you protect yourself against dishonest garage door repair in Des Moines.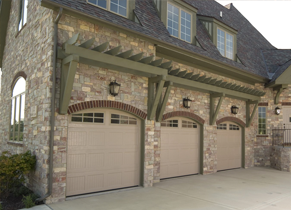 As Mark Parlee, The Building Consultant, preaches, "Become a student of your own home…" Knowledge is power, and Mark prides himself on educating his clients about their homes. The same goes for Des Moines garage doors. Become familiar with your main entry point and the largest moving object in your home. When was the last time you thought about your garage door? Most of us don't give it a fleeting thought until something goes wrong. A spring breaks or the door accidentally shuts on something, and within seconds your door becomes inoperable with your vehicles stuck inside, leaving you helpless and in immediate need of assistance. "Predicting when your spring will break is like predicting what the weather will be tomorrow. But knowing what to do and who to call when it does is half the battle." Says Ryan Spooner, Residential Sales Specialist for WD Door. Don't be a victim; educate yourself:
Five Tips on Choosing a Reputable Garage Door Repair Service
Get Referrals. Ask your friends and/or family who they have used in the past and what kind of experience they had. Word of mouth is one of the best ways to find a quality company. Social media is also a great ally in this process. Post a status asking if anyone has had work done recently and what their experience was.
Do Your Homework. Use Angie's List or the Better Business Bureau to weed out companies that have had a lot of complaints against them.
Get Multiple Bids. Be upfront and tell companies that you are getting bids from other companies. This will help you get a better price on any work you are having done. Ask if there is a minimum charge for a service call (basic fee, trip charge, etc.) so you know how much you might have to pay even if no work is done.
Check Their Address. Beware of companies that have multiple business names. There are some unethical companies out there that operate under heavy advertising, a cell phone and a pick-up truck, but no physical address. They have multiple business names to make it more difficult for customers to track them down later. Make sure the company's name on Google matches the name on their website and map them on Street View to see if their business location really exists. If it looks shady, call someone else.
Be There. Even though we all have busy lives, be present while the work is being done. That way if there is something that needs to be replaced you can see it for yourself. Some scam artists have been known to intentionally break parts so they can charge you to replace them.
Three Red Flags
No Uniform: Technicians should be wearing a uniform or apparel that reflects the name of the company.
No Business Logo: The same goes for the vehicle they're driving. Does it have a company logo in plain view or is it a rusty, unidentified pick-up truck?
No Physical Address: Does the business have an actual brick and mortar address? Does the company answer as their advertised business name in a professional manner?

Allison Peet is the Marketing Coordinator at Des Moines WD Door. Ryan Spooner specializes in residential garage door installation and garage door repair at WD Door Des Moines. Locally owned in Ankeny, we have 25+ years of experience providing commercial garage doors, residential garage doors and garage door operators such as LiftMaster MyQ brand. WD Door also stands behind their work with Des Moines garage door repair.
Mark Parlee specializes in moisture intrusion, leak testing, and construction defects and building diagnostics. He's a Certified EIFS Inspector, Certified Building Envelope Inspector and Certified Thermographer – IR Level 1.