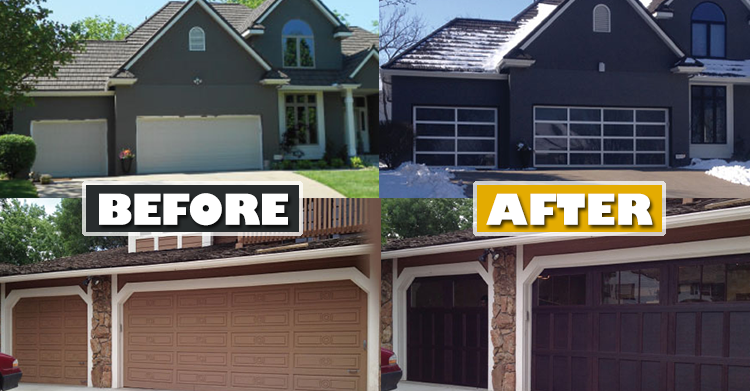 It's a new year. If you're like millions of other people, you've probably set some goals that you'd like to accomplish over the next year. If it needs an upgrade, replacing your garage door might be on the list! Not only will a new garage door enhance your home's curb appeal, but this upgrade is also listed as one of the home improvement projects that offers the greatest return on investment (ROI) in 2016!
This year, according to Remodeling Magazine's Cost vs. Value Report, a midrange garage door replacement returns an average of 91.5% of the homeowner's investment. The average ROI for upscale garage door replacements is 90.5%. That means that on average, American homeowners who replace their garage doors recoup nearly all of their costs in increased home value. These are national averages, and ROI varies across different localities. If you're not sure whether you should consider replacing your door this year, keep reading. You can also give us a call at 515-519-3557 if you'd like us to inspect your door and offer a professional opinion.
When to Consider Replacing Your Garage Door
APPEARANCE
Some garage doors make up 30-50% of the façade of a home! An old, worn out, or broken down door can seriously degrade the appearance of a home. If your old garage door is turning your otherwise lovely home into an eyesore, consider replacing your door this year. There are many styles and types of garage doors available. Click here for tips on choosing the perfect garage door to complement your home and your lifestyle.
FUNCTIONALITY
In addition to curb appeal, consider the functionality of your garage door. How does it operate? If your door sits unevenly on the ground, has cracks or dents on its surface, is noisy when operating, has a slow response time, or doesn't move at all, you may need to replace it. Even if you've maintained your garage door well over the years, garage doors don't last forever; it may just be time.
ENERGY EFFICIENCY
An old, worn down garage door could be affecting your home's energy efficiency, making your energy bills higher than they need to be. Check the weather stripping at the bottom of your garage door to see if it's worn and needs to be replaced. If you see cracks, gaps, or holes in the door, they could be letting in air, rain, and snow. If you decide to install a new garage door, consider one with a high insulation value to increase energy efficiency and make your home more comfortable during cold winters and hot summers.
Garage Door Replacement in Des Moines
This is a great time for you to cross a big to-do off of your list of goals for 2016! WD Door installs and repairs overhead doors for both commercial and residential properties. We'd love to hear about your situation and give you a hand! Contact us for a free quote on a garage door replacement or repair!