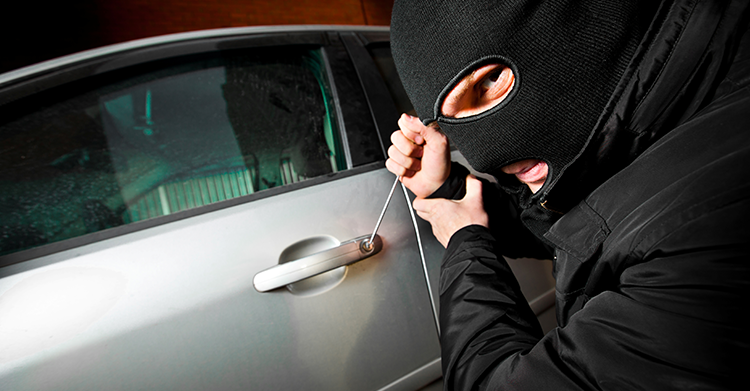 In the last post, we talked about several ways to prevent a burglar from breaking into your house. Today, we'll get more specific and narrow in on how to prevent a garage door break in. Several things can be done to make your garage more secure so it's much more difficult for a burglar to break in. Everyone should be aware of the following information, so read on, and then share with your family and friends!
How to Prevent Your Garage Door from Being Broken Into
If you're like most homeowners, you store at least some items of value inside your garage… bicycles, cars, tools, etc. If your garage door isn't secured to prevent break-ins, you could have anything inside taken right out from under your nose. The garage is also a common and easy entry point into the house for unsuspecting homeowners. Here are several ways to make your garage door much more secure and lower the chance of becoming a victim of theft.
#1. Lock Up
Whenever you leave home or turn in for the night, make sure you lock the door that leads from your garage into the house. Consider adding a second lock, such as a deadbolt, for additional security. Also lock all doors and windows of your garage and keep them shut, even throughout the day.
Consider adding a peephole (if you don't already have one) on the door that leads to the garage. This way, you can keep peer into the garage if you hear a strange noise without having to open the door and risk your safety.
#2. Don't Be an Easy Target
Many thieves break into vehicles looking specifically for the garage door opener so they can get into the garage! Don't tempt the burglar to break into your car simply because you left your garage door opener out in plain sight sitting in your driveway. Either take your garage door opener inside for the night (or keep it in a handy location, such as in a purse or hooked to your keys), or hide it inside your vehicle where it's trickier to find. Another option is to keep your vehicle inside the garage in the first place.
#3. Secure Your Garage Door
According to reports by WJXT, a news station in Jacksonville, FL, thieves can easily break into garages in as little as six seconds using nothing more than a wire hanger! They do this by maneuvering the wire through the top of the garage door and using it to latch onto and release the emergency pull handle. After this is done, the door is free to be manually opened from the outside.
To avoid this, you have a couple of options.
Purchase a dead bolt lock system for your garage door.
Purchase a zip tie to fasten the emergency release valve to the track of the garage door.

Learn how to incorporate a zip tie as a safety feature on your garage door's release mechanism by watching this short video: Preventing Garage Door Break-Ins.
DO NOT fasten the emergency release valve with wire, or you won't be able to use this safety feature in an emergency. The zip tie can be broken by force when you pull directly on the emergency handle, while wire cannot.
#4. Use Light
Light up the area surrounding your house and garage. Consider placing motion detection lights near all entry points (doors and windows).
You don't want an old, rickety door being the only thing between you and a robber. Your garage door should be a strong, reliable barrier that you can trust to keep you safe. If you do have a good, sturdy garage door, keep it maintained so it stays that way for a long time.
Garage Door Safety Features in Des Moines
If you don't have an up-to-date garage door operator, or if it's time to replace your current one, consider LiftMaster as your brand of choice. LiftMaster operators are designed with different levels of safety and security features, depending on which model you purchase.
You can also add LiftMaster MyQ technology to monitor, open, and close your garage door and control home lighting from your smart phone while you're away from home. This technology will send alerts to your phone if you leave your door open or if someone operates your door while you're away.
To learn more about garage door operating systems and which one is right one for you, contact WD Door in Ankeny! We'd love to help you find exactly what you're looking for so you can keep your home as safe and secure as possible.